Put A Wedding To Remember to the test for 60-days. If you honestly haven't ...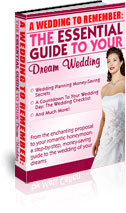 Remained Remarkably Stress-free
Remained organized
Cut any costs on my dream wedding
It's as simple as this -- if A Wedding To Remember doesn't deliver, I lose . . . you'll receive a 100% refund within 48 hours - no questions asked. You can even keep all 6 bonuses ($80 value) to show my appreciation for you at least giving A Wedding To Remember a try.
Remember, you have 60 days to prove how invaluable A Wedding To Remember is to you, your spouse-to-be, and your wedding day preparation.
Those that use A Wedding To Remember absolutely love it!
"I would not do it without this book. This book leaves no stone unturned. Great job!" --DeAnna Spencer, www.learnsmallbusiness.com
"This is THE book that I would certainly recommend."
--Timothy Cook, Indiana
"A Wedding to Remember" covers everything from A to Z for planning your special wedding day! The ideas, tips and checklists are invaluable. Highly recommended."
--Larry James, Relationship Coach, Author of "How to Really Love the One You're With"
YES! I want to try A Wedding To Remember before deciding whether to keep the ebook or not. I am taking advantage of your 60-Day Risk-Free Guarantee; therefore A Wedding To Remember is mine for only $27. Plus, because I'm ordering NOW, I'll get 6 FREE GIFTS.
By ordering NOW, I understand that I am ALSO eligible to receive ALL of the wedding tools including The Wedding Checklist, The Budget Calculator, and Wedding Supplier Directory!.
So Matt, I'm investing ONLY $27 to put A Wedding To Remember to the test. If I'm not 100% satisfied with A Wedding To Remember for any reason, I can get my money back.
And because I'm ordering today, the following bonuses are mine.
Rapid Stress Relief eBook. Understand what "stress" is and discover how you can use it to help you in your everyday life. A $15.00 value.
The Five Minute Face Lift eBook. A simple facial toning program that you can use to revitalize the facial muscles. A $15.00 value.
Courtney Mulroy's Special Weight Loss Report. A $10.00 value.
Sounds like a great deal to me. So here's my information, which I understand you'll never sell, rent, or trade with anyone ever. And I can order with confidence, as this is a 100% secure server.