Dear Friend,
More than likely, you've attended a friend or family member's wedding. You saw how remarkable the smiles on their faces were and the happiness that filled their hearts. Guess what - NOW IT'S YOUR TURN!
Do you think your friends planned their weddings without dealing with the same stresses you have been dealing with? Of course not!
Everyone and anyone who is planning their wedding will suffer from the general stresses of this beautiful event. It's completely normal - BUT doesn't it sound nice to leave the problems behind and actually ENJOY THE PLANNING PROCESS too?
"Money is the root of all evil" - But it doesn't have to be. You can still have your fairytale wedding on a budget respectable to YOU.
You'll be happy to hear that you can SAVE HUNDREDS to even THOUSANDS OF DOLLARS off of your wedding costs!
The wedding itself is only 1 day. But the planning process could be anywhere from 6 months to 2 years! So why not enjoy EVERY aspect of the wedding event and save your hard-earned money along the way?
When you think of all of your best, most cherished and irreplaceable memories, what do you think think of? A friend or family member giving birth? Enjoying your brother or sister's wedding? Without a doubt, YOUR wedding will be your most treasured and unforgettable memory!
So don't settle for anything less than the best for this special day!
Most of you are just starting your wedding plans. You've thought about the things you need, the things you want, and certainly the costs to get these things.
If you're like me when my wife and I started planning our wedding, then you're most likely beginning to realize that planning a wedding is a very overwhelming process AT FIRST -- more stress-inducing than you ever imagined.
DON'T WORRY! You're not alone!
No matter what the type of wedding, the date you wish to wed, or even the amount of guests you wish to invite, YOUR beautiful wedding can be planned within YOUR realistic budget!
STRESS-FREE!
We Saved almost $3000 and still had the wedding of our dreams!
Hi, My name is Matt Callen. Before I decided to write this guide, I was in the very same boat as each and everyone of you. I saw how demanding the wedding process was. My wife - fiance at the time - was dealing with almost every stress imaginable. Everyone was telling her to "do this" or "do that". She coudn't find the perfect wedding invitations at an affordable price. She was lost when it came to wedding etiquette. She was overwhelmed with the number of different wedding favors. Her decoration plans were dwindling because she couldn't afford the cost-inflated prices of what she had always dreamed of.
I hated seeing her depressed and constantly overworked with wedding plans. I was troubled with this - I thought that planning a wedding was supposed to be one of the most enjoyable occassions in a bride's life. If this was true, I certainly wasn't seeing it at the time.
At first, we sat down and made our wedding budget. Once this was done, my fiance and I started planning. It wasn't long after, she was in pain because we thought we couldn't afford the wedding she'd always dreamt of.
I coudn't stand to see her in pain. So instead of simply sitting back and watching my fiance suffer from the stresses, I told myself that I was going to make sure that she would have her fairytale wedding - and we were going to do it on OUR budget.
I became quite active with my research! That's right - wedding research.
Right away I saw that brides were being exploited by money-hungry wedding companies. And you know what? My fiance was one of those brides.
Besides seeing through the cash-rich companies, I knew there had to be a way to plan her dream wedding on a realistic budget!
Finally, after all of my intense research, and months of time spent interviewing wedding consultants and other brides who achieved their dream wedding desires, I decided to compile together all of the wedding secrets, tips, ideas, "how-to's", and anything 'wedding' I could get my hands on. I wasn't about to let my fiance be sad during this exciting journey.
After collecting each and every wedding secret, I ran the ideas by my fiance. We found out that it was truly possible for her to have the perfect, fairytale wedding without spending an arm and a leg!
Her dream had come true - the wedding was everything she had hoped for and more! That's right - even more than we had hoped for! We had the wedding we wanted, and on the budget we wanted. But the most incredible thing is that...
We Were almost $3000 Below Our Budget!
After seeing how happy my fiance was with our wedding - I knew that I couldn't keep these ideas from others. After all, these are the secrets that the wedding industry hides from you. I love helping people. That's what I'm about. So I won't ever succumb to the level of keeping valuable wedding information from you.
The ENTIRE wedding process should be enjoyable - not just the wedding day itself. After I saw the joy and excitement my wife experienced during our planning, I was determined to help as many brides as I could.
So why should I keep these secrets to myself? There's absolutely no reason for me to. The last thing I want is to be placed into the same category as the rest of the money-hungry wedding industry.
I want you to experience the same happiness my wife and I had while planning our wedding. That's why I've created this web page. You're about to discover the shocking secrets to saving money and enjoying each and every aspect of planning your wedding!
You're going to save time, money, and aggravation. You'll learn to avoid the mistakes and disastrous situations that you've been vulnerable to. Just for starters, here are 11 ways to put wads of cash back in your pocket...
Detailed Advice on ALL Aspects of Your Wedding Day...Wedding Secrets Revealed!
Studies show that $72 billion per year is spent on weddings in the US. And the average wedding budget for couples today is $20,000! There is a lot of money in the wedding world - and most of it is spent on unnecessary extras that money hungry wedding companies practically steal from you. This is exactly why I'm sure you'll save hundreds to thousands of dollars once you know...
Simple, easy techniques to reduce your catering costs....sometimes up to 40%!
Discover what you should really look for when buying YOUR Fairy-Tale WEDDING DRESS. Look like a Princess on your Wedding Day! ...And 5 Money-Saving Tips guaranteed to cut the costs!
Things you must know before signing your photographer's contract...unless you want to pay a hidden $150 cost!
Where will you get the best deal on your honeymoon? I will show you all of the tricks to choosing the perfect paradise honeymoon.
Unbelievale secrets to cutting unexpected costs on your reception dinner! Your guests will never know you saved 30% on catering!
How to look GORGEOUS on your wedding day! "Countdown to Wedding-Day Beauty" Easy-to-Follow Checklist...Ten Items You MUST have on your wedding day.
The exact dialog you must use to get the best deal on your photographer. Know with absolute certainty that you've obtained the lowest price possible.
The hidden truth about what to write in your wedding vows. "Can I really say that?"
You just got engaged - now what? Know exactly how to start your planning from Day 1 - Save yourself from days of procastination and extra money thrown out the window because of it!
How to Plan an Unforgettable Ceremony! Walk down the aisle with confidence....at the same time, knowing you saved a wad of cash on the decorations. Your guests will never know...
What you must do so you don't did scammed by your florist. 9 steps to choosing the right person to do your flowers.
SAVE Yourself 30-45% On Your Wedding-Day Expenses
According to Brides's Magazine, Today's Bride Worries About...

• Exceeding budget – 66 percent
• Forgetting a crucial detail – 50 percent
• Party not being fun – 40 percent (most expensive element of the wedding)
• Guests not showing up – 25 percent

The facts don't lie. And they don't have to. It's obvious and completely NORMAL to worry about spending too much money or leaving out an important detail. But this doesn't mean you should stop fighting the stresses. It simply means that you're not alone. And this is exactly why I want to help brides just like you! You'll never be vulnerable to many of the stresses when you know...
How to steer clear from unexpected costs! Don't throw your hard-earned money away on the "extras".
How to start your planning from Day 1 - Save yourself from days of procastination!
How to breakdown each and every cost to your wedding. Who pays for what? How much will each ingredient to a wedding cost?
The #1 stress-relieving plan! It's something you're probably already doing, but simply not the right way.
7 Essentials on How To Choose The Perfect Photographer - I will show you the tricks to avoiding another "wedding horror story". Also, 6 extra secrets to cutting costs on your photographer...
How to get all of your money's worth out of your honeymoon...(Is free stuff really included in your honeymoon package?)
How to know if your cakemaker is ripping you off. 11 Tips to help you decide on the perfect wedding cake..nine easy ways to lower the cost of your cake!
Essential guidelines for the bridal-wear. Five things you don't want to make the mistake of doing.
10 Essential Questions to Ask Your Photographer. Are they going to perform according to YOUR needs? They will once you ask these questions.
How to Plan an Intimate HONEYMOON - one that fulfills YOUR needs and desires! 8 Romantic tips to create an intimate vacation with your newlywed.
6 Tips You Need To Know If You're Going to STICK TO YOUR BUDGET
This is just the tip of the iceberg! There's so much more, I couldn't possibly list it all here. And this is why I'm offering you my private collection of 300+ tips and secrets on a completely risk-free basis. It's called "A Wedding To Remember", and here's what my customers are saying about it:
"A Wedding to Remember" covers everything from A to Z for planning your special wedding day! The ideas, tips and checklists are invaluable. Highly recommended."

- - Larry James, Professional Speaker, Relationship Coach, Author of "How to Really Love the One You're With"
www.CelebrateIntimateWeddings.com
"Though most women are the ones planning weddings, my wife and I worked together for the whole unforgettable process. I cannot tell you how much I learned from 'A Wedding to Remember'. Not only did I learn about the planning process, but with all of the help, we were able to cut tons of extra costs!

This book allowed the 'guys' to become involved in the actual planning and understanding of what it takes to create the most memorable day for two individuals' lives. For any man wanting to get involved, or those brides that want their grooms to be involved, this is THE book that I would certainly recommend.

My bride loved the fact that I had an idea of how the planning process worked - and how it should be planned for a "wedding to remember."

Timothy R. Cook
Franklin, Indiana
Discover How to Put an End to ALL Wedding Planning Stresses.
How do professional wedding planners do it? How do they meet the expectations of the bride and groom?
Now I don't want to say that wedding planners are bad - I would have enjoyed leaving some of the specifics up to a coordinator - BUT I didn't have the money to hire a wedding planner. That's why I decided that my wife and I were going to be our own wedding planners.
If you're in the same boat that I was, you probably can't afford the overly priced, cost-inflated charges of hiring a professional wedding planner.
And YOU DON'T HAVE TO!
After planning our own wedding, I told myself that I was going to try and help as many other couples like my wife and I. People just LIKE YOU!
Your most treasured and unforgettable memory is about to begin! Don't let the stresses of dealing with your parents, bridesmaids, or in-laws get in the way of this event. It's time to enjoy the planning process AND learn everything you need to have YOUR perfect wedding day.
I've compiled all of the secrets and tips into an organized, easy-to-follow step-by-step guide. Learn the secrets the wedding industry wishes you didn't know. It's all included in my new book called:
"A Wedding To Remember: The Essential Guide To Your Dream Wedding"

The easy-to-use, money-saving guide is instantly available to YOU as a downloadable version. I've done this so you won't have to order and wait several days before getting started.

It can be at your fingertips in seconds!



Don't let money and stress get in the way of having the wedding of your dreams
A Wedding To Remember helps you with all of the details you probably would have never considered. It's all condensed into a step-by-step, easy to understand fomat that you can easily absorb in hours - with all of the wedding-industry loop holes left open for you to take advantage of!
When it's all said and done, you want to look back on your wedding with loving memories. You can't go back and change a thing. You can, however, start off on the right foot by making the planning process relaxing, enjoyable, and stress-free TOGETHER, without spending an arm and a leg for the wedding.
With this information, believe me, you'll save hundreds of dollars in wedding expenses and bucket loads of stress. But just as important, you'll have the satisfaction of knowing that you'll walk down the aisle with confidence and joy.
"This is a beautifully written and very detailed book that no bride or groom-to-be should be without.

When planning a wedding, I would not do without this book. It leaves no stone unturned. Great job!"

-- DeAnna Spencer, Las Vegas NV
These Hidden Secrets Are Yours Risk Free
I know what it's like to spend hundreds of dollars, and weeks and weeks trying to organize the perfect wedding. I want YOU to be relieved of all of the stress and overwhelm caused by disorganization and money problems.
Here's the best news of all. What you've been waiting to hear: you made it just in time to take advantage of a limited time offer.
It's part of a marketing test that even I can't believe I'm doing. The normal risk-free price is $37, but because the Internet has reduced many of the costs, I'm doing a test and passing my savings on to my Internet customers (i.e. you) until midnight, .
Depending on how it affects sales, I may or may not continue the special discount after this date.
However, if you order A Wedding To Remember online by midnight on , it's yours risk-free for an incredibly low $27...Less than what most people spend on a a typical dinner date! Read the details of my guarantee below.
For a limited time only, you can own A Wedding To Remember for this negligible investment today. Your personal Wedding Planner could be at your fingertips in seconds!
And when you act quickly, you can try it out with no obligation.
Just take advantage of this zero-risk offer by .
AND since you're ordering before the special offer has expired, I'm throwing in these FREE Bonus Gifts...
Wedding Bonus #1: The Wedding Checklist
Organization: Once again, it's what will hold this entire wedding together. I have been harping and harping about how important organizing your wedding is. Not everyone is naturally organizational. It's NOT your fault!
As I said before, disorganization is one of two main reasons for wedding-budget problems. This is the sole reason I have included the free bonus "Wedding Checklist" for you.
If you are naturally organizational, YOU WILL LOVE this Checklist! If you can't remember the last time you were able to keep your checkbook balanced, YOU WILL LOVE this Checklist! This tool is for the organized, and for the people like most of us who are not.
Wedding-planning disorganization could cost you hundreds, if not thousands of dollars. And when you're spending all kinds of extra money, you're not doing anything but causing yourself a great deal of stress.
"The Wedding Checklist" is a very helpful tool that will help you relax and enjoy the whole planning process. This very handy checklist will allow you to follow a very detailed schedule from month-to-month, week-to-week, and then finally day-to-day as you approach your big day!
Wedding Bonus #2: The Budget Calculator
A second tool I will include free of charge is a very handy budget table calculator that allows you to list your expenses either on hardcopy or in an eletronic format.
"The Budget Calculator" is inluded as a FREE BONUS in electronic, easy-to-use Microsoft Excel™ format so you can use the built-in calculator. You will now be able to keep of all the money you saved on your wedding!
It was designed by using Microsoft Excel™, so most likely you are familiar with how Excel™ works. If you're not familiar with it, you'll be able to learn it as quick as it took you to tie your shoes! It's THAT EASY! It saves time, effort, and what we all want to save - MONEY!
Super Bonus #3: The Wedding Supplier Directory
Who is your caterer? Photographer? Officiant? Reception Hall Supervisor?
Do you keep fishing through a phonebook for their contact information, but can't find what you're looking for? With the "Wedding Supplier Directory", you will be able to easliy find the contact information for each and every vendor of your wedding! Once you decide upon your vendors, all you have to do is enter their information into the "Wedding Supplier Directory" and you'll have it at your fingertips whenever you desire.
Again, this is included as a FREE BONUS in electronic Microsoft Excel™ format. You be able to access each and every supplier of your wedding with ease! Take my word for it - Being Organized is a Blessing.
Stronger Than Steel No-Risk
Money-Back Guarantee!
I insist that you order A Wedding To Remember entirely at my risk. Put A Wedding To Remember to the test for 60-days. If you honestly haven't ...
Remained Remarkably Stress-free
Remained organized
Cut costs on your dream wedding
It's as simple as this -- if A Wedding To Remember doesn't deliver, I lose . . . you'll receive a 100% refund within 48 hours - no questions asked. You can even keep all 3 bonuses ($30 value in itself) to show my appreciation for you at least giving my tips and secrets a try.
Finally, since you have entrusted me with your time and confidence, I want to give you the following supplemental eBooks for FREE. If you've been worrying about how you're going to look on your wedding day, these books are just what you're looking for! Yes, that's right...
3 More Free Bonuses
Rapid Stress Relief eBook. Stress is the hidden health threat that everyone faces; it makes you susceptible to disease and increases your rate of aging. Use these easy techniques to control and defeat the dangerous effects of stress. Understand what "stress" is and discover how you can use it to help you in your everyday life - especially when it comes to wedding day crunch time. A $15.00 value.

Special e-Report written by Courtney Mulroy who lost over 90 pounds in 6 weeks! A perfect, quick weight-loss program that can help you tone-up before your big day. A $15.00 value.
The Five Minute Face Lift eBook. Not just for the brides - grooms, you're welcome to try it too! A simple facial toning program that you can use to revitalize the facial muscles. Tone your whole face with just six simple exercises that you can do in minutes. Find out why facial exercise works better than electrical toning, and can even eliminate the desire for cosmetic surgery. A $10.00 value.
That's Over $100 Worth Of Products For Only $27!
Here's my 60-Day Risk-Free Guarantee: Go ahead and get A Wedding To Remember. Read the book. Use it. And apply it at your own leisure. Take up to 3 full months to decide if this step-by-step, money saving guide - including the 3 planning tools and FREE bonus ebooks - are worth the price. If you aren't satisfied for any reason, then you deserve a no-hassle refund.
That's right, I am giving you a 100% money-back guarantee.
Within mere moments you can learn how to achieve the wedding you've desired for years and years. If you can trust that the planning procedures, outlines, and tips presented in this guide are 100% beneficial to YOU, then your wedding will be as PERFECT as YOU want it to be.
When it's all said and done, you want to look back on your wedding with loving memories. You can't go back and change a thing. You can, however, start off on the right foot by making the planning process relaxing, enjoyable, and stress-free TOGETHER, without spending an arm and a leg for the wedding.
Today, you're truly closer than ever to having your fairytale wedding. Don't throw away your money on extra wedding costs! You owe it to yourself to give my tips and secrets a try.
Just imagine, in days from now, you and your spouse-to-be can be sitting down together, planning what will be the most unforgettable day of your lives! Excited? You should be, because A Wedding To Remember is exactly what you need to help plan the wedding of your dreams.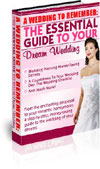 Download A Wedding To Remember now!
I look forward to getting a letter from you, telling me about your wedding planning. Even though I get an enormous amount of email, please write to me. I'd love to hear your success story!
Best Wishes and Happy Planning!
P.S. Take me at my word - put me to the test -give me an opportunity to prove my claims to you. Just one of my 300+ tips will easily pay for the collection. When you place your order for A Wedding To Remember, you won't be under any obligation - and you can get a refund at any time if you want. However once your dreams are coming true, you'll never want to part with this book. This is a "must see" book. Don't delay - enjoy your personal Wedding Planner in seconds.
Get A Wedding To Remember Now!



Wedding Planner | Affiliate Program


---


Copyright © 2009 DreamWeddingPlanner.com
All Rights Reserved - A Wedding To Remember™