When should I start planning a wedding?
If you have the time, then the ideal time-line to start planning your wedding would be 12 to 18 months before the actual event. You may think that this time-line is quite a lot before you would actually expect to start planning a wedding, but in reality it is not.
If time permits, this is the perfect time-line for wedding planning. There are hundreds of things that need to be taken care of in planning a wedding; thus the earlier you start the better. There are fewer chances of you forgetting something or missing out on something important if you start planning your wedding well in advance. Certain things such as church bookings and reception hall reservations are usually made more than a year prior to weddings. So you too should begin your wedding preparations this early so that you can get the choicest halls and other services for your wedding.
Learn the secrets to planning the wedding of your dreams. You'll be amazed with the beauty and ease of having the wedding of your dreams without the extra costs of hiring a Wedding Planner. Find out how we saved money and attained our fairytale wedding!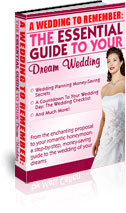 Click here to learn the secrets.