How can I plan an inexpensive wedding?
OK, face the fact - weddings can be a really expensive proposition. The average wedding nowadays costs about $15000 - $20000 and that too without too many frills. But even in this day and age it is possible to have an inexpensive wedding without it being any less special or unique than most other weddings.
You just have to figure out how to manage that. Well, here are some tips that will help you to save money on the more expensive aspects of a wedding, thus helping you to have an inexpensive wedding. Reception: This constitutes a major cost of most weddings. Hereís how you can have an inexpensive reception: Keep the guest list small. Invite only your closest family and friends and not people that you havenít met in years. Try to have the reception at home or in someone elseís home or maybe even a restaurant. You will save a lot of money on expensive halls and clubs. Reduce the number of courses of the meal.
Try and cater it yourself to further reduce costs. Do not have a full bar; serve only beer and wine. Photographer: Photography can considerably add to the cost of weddings. Hire a photographer only for the actual ceremony and have some of your family members or a friend do the photography for the rest of the event. Shop around and see if you can get an inexpensive photographer. Wedding Invitations: Invitations and other type of wedding stationery are hidden costs that can make a wedding expensive.
Make your own invitations. These will turn out a whole lot cheaper and will also look very personalized. Try and make your own place cards and thank-you notes as well. This can go a long way in reducing wedding expenses. The Wedding Gown: This is by far a considerable cost to most weddings. You are going to wear your wedding dress just once. So rent a dress instead of buying an expensive one, or you could even get a second hand wedding dress for a lot cheaper than a new one. Remember, it too will probably have been worn just once as well.
Have your wedding gown stitched by a family member if it is possible. A great way to save money on a wedding gown is to wear your motherís or your grandmotherís wedding gown if it is still in a good condition. You could even start a unique wedding tradition of your own! Donít buy expensive flowers but try to pick them from your garden or a friendís garden. Have unique hand-made wedding favors and centerpieces. Get a friend or relative to bake you a nice wedding cake. All these steps can be taken to have an inexpensive wedding. With just a little bit of effort and a lot of imagination, you can have the wedding of your dreams; and an inexpensive one at that.
Learn the secrets to planning the wedding of your dreams. You'll be amazed with the beauty and ease of having the wedding of your dreams without the extra costs of hiring a Wedding Planner. Find out how we saved money and attained our fairytale wedding!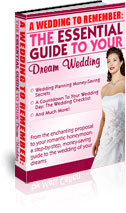 Click here to learn the secrets.