How do you plan an outdoor wedding?
Outdoor wedding.
Oh what a wonderful day it would be, a beautiful sunny garden, a big white marquee adorned with lilies and trinkets, music, dancing all sounds beautiful. Hiring a marquee for the day is a really great idea if you live in a place were the weather permits. If not I wouldn't take the chance as a mud ridden lawn with cold wet guests doesn't sound as romantic. Also keep in mind the hiring of cutlery, crockery, heating, lights, toilets etc. all adds up.
Learn the secrets to planning the wedding of your dreams. You'll be amazed with the beauty and ease of having the wedding of your dreams without the extra costs of hiring a Wedding Planner. Find out how we saved money and attained our fairytale wedding!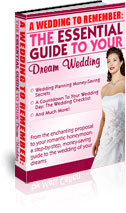 Click here to learn the secrets.