Bridal Accessories To Complete Your Wedding Look
By Andrea Britt
Bridal accessories are as necessary to complete the bridal look, as packaging is to a wedding gift. The wedding gown would be incomplete without matching wedding accessories. Here's a quick rundown of the bridal accessories you want to pay attention to. Wedding veils: Other than the wedding gown, the veil is another piece of wedding accessories that shouts – "Here comes the bride!"
If you choose to wear a wedding veil, make sure you pick one that suits you and your wedding gown. Veils come in varying lengths. The shoulder length flyaway style is very popular with modern brides. However, the traditional cathedral veil is ultraformal and three and one-half yards long. That is one bridal accessory that makes a statement! Headpieces: Generally, headpieces are used to attach the veil in place. Combs, headbands, backpieces and Juliet caps are all popular bridal accessories. These wedding accessories look very beautiful and are decorated with pearls, crystals, beads, lace or even flowers! You can also choose to skip the veil altogether and just wear a headpiece.
Tiaras, crowns, half-crowns, wreaths and bunwraps are bridal accessories that don't need a veil to complete the look. Jewelry: The wedding jewelry you wear adds a finishing touch to your bridal outfit. Your engagement ring and wedding band is a given. However, don't forget about the necklace, earrings and possibly a bracelet. Jewelry is a great way to take care of the something old, new, borrowed and blue. Family heirlooms work really well as bridal jewelry. Also, pearls are classic but diamonds are ever popular too.
Shoes & stockings: Finding the right shoes to complement your bridal gown can be almost as difficult as finding the gown itself! Comfort should be your top priority when shopping for this bridal accessory since you will be on your feet most of the time.
Fabrics like velvet, satin and silk lend a delicate and formal touch to your wedding shoes. Add a bit of embellishment like beads, sequins, pearls or crystals and you'll feel as special as Cinderella!
Gloves: Gloves are making a comeback as a bridal accessory, assisted by the increasing preference for strapless and sleeveless gowns. In general the trend is that the shorter the sleeve the longer the glove. Handbags: You won't be carrying this bridal accessory with you all the time. However, it is a good idea to have a small purse on hand to hold small items for touch-ups. Clutches work well. In general, bridal accessories help complete the wedding look. While your gown makes up eighty percent of your bridal look, it would be left incomplete without complementing bridal accessories. So take the time to accessorize your wedding day outfit, the simple details make will make you all the more stunning. Copyright Andrea Britt, 2005. All rights reserved.
Learn the secrets to planning the wedding of your dreams. You'll be amazed with the beauty and ease of having the wedding of your dreams without the extra costs of hiring a Wedding Planner. Find out how we saved money and attained our fairytale wedding!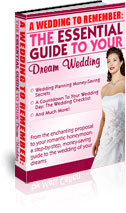 Click here to learn the secrets.